A Passion for Winemaking
Winemaking may have been the logical evolution in our family's long history of farming in the Dry Creek Valley, however, it took an absence from the valley and attention to those inner voices that led Clay Mauritson back to these same vineyards that he spent planting, tending and picking as a teen. What he came to realize was that he already had a lifetime of understanding about the subtleties and strengths of each micro-climate within the Dry Creek, Rockpile and Alexander Valleys. The only thing left was to DREAM BIG!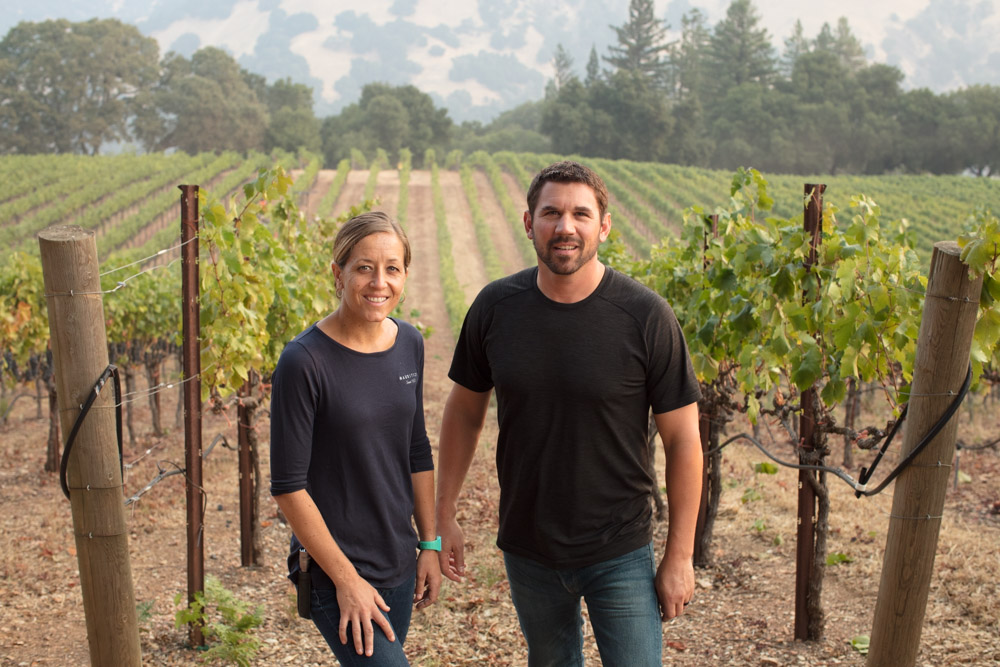 Emma Kudritzki HallWinemaker
Leading the crew in the cellar, Emma's intensity is apparent. It's the same drive that propelled her as an All-American college athlete (she played water polo at U.C. San Diego, where she earned a B.S. in Biology).
But she says that cultivating the ability to be deeply focused may be the key reason she's been successful as winemaker at Mauritson.
"You fall in love with the process," says the Marin County, CA, native who spent college summers working in her uncle's pear orchard and vineyard. After her first grape harvest -- in 2001, at a boutique winery in the Sonoma Mayacamas Mountains – Emma was hooked.
Next came five years of hands-on experience at other wineries close to home and as far-flung as New Zealand. After returning to California and receiving her Enology and Viticulture degree from Fresno State University in 2005, she became the Assistant Winemaker and Viticulturist at MacRostie Winery, where she worked for four years.
She joined Mauritson in 2011, was promoted to Winemaker in January 2019, and shares founder Clay Mauritson's belief that the best wines capture a specific sense of place, as well as express the unique conditions of each vintage. It's an approach that requires rigorous attention to detail, as well as an openness to discovering what each year's grapes need to reach their full potential. The most satisfying part? "Figuring out the puzzle" to craft the most harmonious wines, Emma says. "It's [taking] that science and expressing it in artistic ways."
Pursuing a career that combines passion and purpose is extremely fulfilling for Emma, and it's something that she and her husband, Jesse, hope to instill in their young daughter, Marina (the family lives in Healdsburg with their two dogs, Tomales and Zydeco). "You live and breathe what you do," she says, "because you enjoy it so much."
Clay Mauritson Founder / Owner
Clay Mauritson is the sixth generation in a family of grape growers. Born and raised in the Dry Creek Valley, Clay was destined for the wine business.

In college Clay exhibited his prowess on the gridiron, playing outside linebacker for the University of Oregon Ducks in the 1995 Rose Bowl and the 1996 Cotton Bowl. Clay graduated in 1997 with a degree in Business Administration, with an emphasis in Marketing and a minor in Economics. Armed with his new degree he came back to Sonoma County to officially enter the wine industry.
Clay worked for 5 years at Kenwood Vineyards in the Sales & Marketing Department (starting even before he graduated from college), spending much of his time traveling and making sales contacts as Assistant National Sales Manager. After leaving Kenwood, Clay had the opportunity to work with the winemakers at Taft Street Vineyards and Dry Creek Vineyards, allowing him to hone his winemaking skills and gain additional knowledge of winery operations.
In 1998, Clay produced his first bottling of Dry Creek Zinfandel under the Mauritson label and, in 2002, he began devoting his efforts full-time to the Mauritson Family Winery project.

Clay's winemaking philosophy is simple: You need exceptional fruit to make exceptional wine. This is where the advantage of having a family heritage of grape growers becomes obvious: About 300 acres of Sonoma County family vineyards and strong relationships built over the years with other growers have given Clay access to some of the best fruit that Sonoma County, Dry Creek Valley and Rockpile have to offer. Devoted to making exceptional wines, Clay is on his way to becoming one of California's foremost young winemakers.

Clay lives in Healdsburg with his wife Carrie-Anne, sons Brady and Davis, daughter Ella, and the family's two dogs, Eugene and Durban.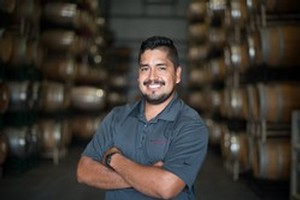 Clay & Emma are joined in the cellar by Cellar Master Adrian Reyes. Together, our team has developed a winemaking process that focuses on small vineyard lot separation and fermentation — last year alone we ushered 68 different lots to maturity before the final blending. This gives us enormous flexibilty, enabling us to pinpoint that perfect Mauritson signature with every varietal, every vintage. Fermentation is typically open-top, punchdowns done by hand, native yeasts employed. The resulting wines might be best described as the perfect expression of each vineyard.
With more than 300 acres of Sonoma County estate vineyards, we are not only able to source the absolute best of each vintage, we are also able to meticulously follow our passions. For example, when we decided to create a wine in the true porto tradition, we planted four of the "big five" authentic Portuguese varietals, resulting in our signature "Independence," a wine that refers to a section of our Rockpile property dating back six generations. We choose winemaking techniques that will best exemplify the wine style and the vineyard. The fruit reigns supreme here -- and as Clay often tells visitors to the winery: "Winemaking is 95% fruit and 5% the winemaker not screwing it up!"