A Passion for Winemaking
Winemaking may have been the logical evolution in our family's long history of farming in the Dry Creek Valley, however, it took an absence from the valley and attention to those inner voices that led Clay Mauritson back to these same vineyards that he spent planting, tending and picking as a teen. What he came to realize was that he already had a lifetime of understanding about the subtleties and strengths of each micro-climate within the Dry Creek, Rockpile and Alexander Valleys. The only thing left was to DREAM BIG!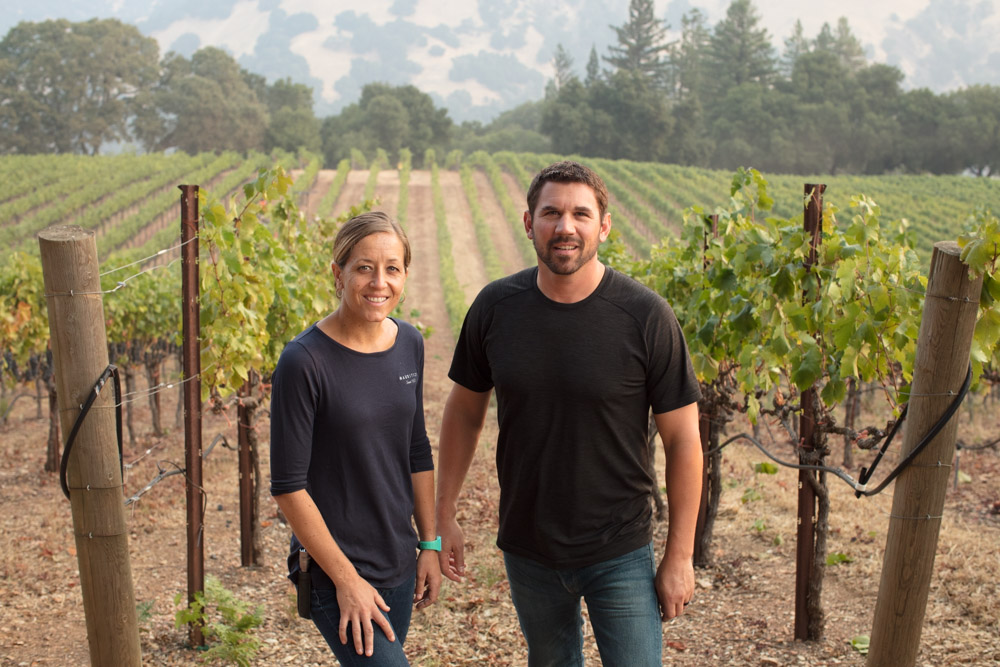 Emma Kudritzki HallAssociate Winemaker
Emma comes to us from MacRostie Winery where she was the Assistant Winemaker and Viticulturist for four years. Her initial exposure to wine grapegrowing came during her college summers off from UC San Diego while living and working on her uncle's pear orchard and vineyard in northern California. It was during those long summer days that Emma formed a greater understanding for the beauty of plant growth and fruit development.
After receiving her BS in Biology and finishing her water polo career for the university as an All-American Water Polo player, Emma's uncle encouraged her to work a grape harvest. She worked her first harvest at a boutique winery in the Sonoma Mayacama Mountains, where the start of a lifelong career in winemaking began. Following the 2001 harvest, Emma chose to work for a select handful of prestigious wineries both locally and overseas to gather a range of winemaking and grape growing philosophies.
To complement her hands-on experience, Emma returned to school in 2005 to obtain her enology and viticulture degree from Fresno State. Here at Mauritson Family Winery, you will often find Emma employing her "boots on the ground philosophy," whether she is out walking rows in the vineyard or leading her crew in the cellar.
Clay Mauritson Owner / Winemaker
Clay Mauritson is the sixth generation in a family of grape growers. Born and raised in the Dry Creek Valley, Clay was destined for the wine business.

In college Clay exhibited his prowess on the gridiron, playing outside linebacker for the University of Oregon Ducks in the 1995 Rose Bowl and the 1996 Cotton Bowl. Clay graduated in 1997 with a degree in Business Administration, with an emphasis in Marketing and a minor in Economics. Armed with his new degree he came back to Sonoma County to officially enter the wine industry.
Clay worked for 5 years at Kenwood Vineyards in the Sales & Marketing Department (starting even before he graduated from college), spending much of his time traveling and making sales contacts as Assistant National Sales Manager. After leaving Kenwood, Clay had the opportunity to work with the winemakers at Taft Street Vineyards and Dry Creek Vineyards, allowing him to hone his winemaking skills and gain additional knowledge of winery operations.
In 1998, Clay produced his first bottling of Dry Creek Zinfandel under the Mauritson label and, in 2002, he began devoting his efforts full-time to the Mauritson Family Winery project.

Clay's winemaking philosophy is simple: You need exceptional fruit to make exceptional wine. This is where the advantage of having a family heritage of grape growers becomes obvious: About 300 acres of Sonoma County family vineyards and strong relationships built over the years with other growers have given Clay access to some of the best fruit that Sonoma County, Dry Creek Valley and Rockpile have to offer. Devoted to making exceptional wines, Clay is on his way to becoming one of California's foremost young winemakers.

Clay lives in Healdsburg with his wife Carrie-Anne, sons Brady and Davis, daughter Ella, and the family's gentle yellow lab, Chelsea.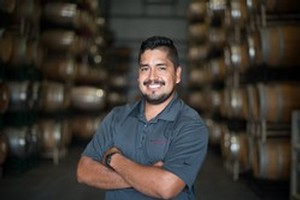 Clay & Emma are joined in the cellar by Cellar Master Adrian Reyes, cellar veteran Jesus Garcia and lab tech Henry DeLambert, bringing 40 years of collective cellar experience. Together, our team has developed a winemaking process that focuses on small vineyard lot separation and fermentation — last year alone we ushered 68 different lots to maturity before the final blending. This gives us enormous flexibilty, enabling us to pinpoint that perfect Mauritson signature with every varietal, every vintage. Fermentation is typically open-top, punchdowns done by hand, native yeasts employed. The resulting wines might be best described as the perfect expression of each vineyard.
With more than 300 acres of Sonoma County estate vineyards, we are not only able to source the absolute best of each vintage, we are also able to meticulously follow our passions. For example, when we decided to create a wine in the true porto tradition, we planted four of the "big five" authentic Portuguese varietals, resulting in our signature "Independence," a wine that refers to a section of our Rockpile property dating back six generations. We choose winemaking techniques that will best exemplify the wine style and the vineyard. The fruit reigns supreme here -- and as Clay often tells visitors to the winery: "Winemaking is 95% fruit and 5% the winemaker not screwing it up!"