Rockpile Appellation
Straddling the ridge between the two arms of Lake Sonoma is the Rockpile AVA. One of the newest appellations in California, Rockpile's location and history can be described in one word: DRAMATIC!


Our great-great-great grandfather S.P. Hallengren first planted vines on the Rockpile valley floor in 1884, shipping every ounce of his wine back to Sweden. Our family's Rockpile homestead and ranch grew to 4,000 acres by the early 1960s when all but 700 ridgetop acres were taken by the Army Corps of Engineers in order to develop Lake Sonoma. The vineyards shown in many of our historic family photos are now under water.

For the ranch families left on "the Ridge," the steep hillsides and rocky terrain seemed mainly suitable for sheep grazing and wild pig hunting. It was not until the early 1990s that the first acres of modern-era vines were planted and thrived. Brothers Thomas and Chris soon followed suit, developing 45 acres of vineyards between their Rockpile Ridge Vineyards and Rocky Ridge Vineyards and discovering that Rockpile held great potential for ultra premium mountain fruit.
What makes Rockpile so unique? The appellation is located at the Northwest edge of Dry Creek Valley where the two appellations actually overlap. All of the vineyards within the Rockpile AVA range from between 800 – 2,000 feet in elevation. Although Rockpile is located just 13 miles from the coast, Lake Sonoma provides an inversion layer that prevents the heavier fog that typically blankets other Northern California appellations, allowing for longer, more consistent sun exposure. Moisure and daytime temperatures are regulated by howling coastal breezes and, in many cases, steep slopes and rocky terrain require non-motorized vine management. Running through our Rockpile Ridge Vineyards is the Healdsburg–Rogers Creek Fault, a dominant earthquake fault in Northern California, and you can see why the story of Rockpile is pure geo-political drama.

We are thrilled to manage the development of so many different varietals and clones and also be able to make wines with such complexity from this truly unique appellation.
---
Buck Pasture ~ Rockpile
Some of the historical names of our property are colorful and some are more practical. Buck Pasture definitely fits the second category. Back in the early days, when you wanted to find a big buck, this is the area of the ranch you went to. It's not hard to imagine why the deer congregated here. There was always plenty of feed, it was extremely steep, which discouraged unwanted visitors, and it has the best views on the property.

Located between 1,000 and 1,300 feet in elevation, and with sweeping sun exposures from South to Southwest, this block is ideally suited for Bordeaux varietals. The thin gravelly loam provides the perfect balance of stress and sustainability. The combination of factors gives us extremely small yields with incredibly concentrated fruit, yet there is a richness and soft round tannins that comes from the soil and increased sun. With a slope up to 30 degrees, we never have to worry about too much water retention in this soil. The resulting wines have amazing intricacy: They are at the rich and tannic; bold and understated; fruit forward and complex; youthful yet age worthy. This vineyard is planted to Malbec, Petite Verdot, Cabernet Franc and Tannat.

WINES FROM THIS VINEYARD:
Rockpile Buck Pasture Red Blend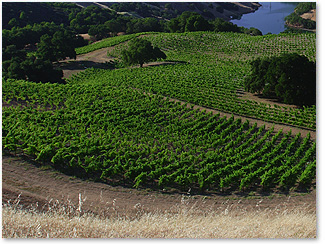 ---
Cemetery ~ Rockpile
No need to worry, there's no one buried beneath the vineyard. This block gets its name from the extremely unusual outcropping of rock at the bottom of the vineyard. Though the terrain in Rockpile is very extreme, there are not a lot of sedimentary rock formations on our ranch. This particular rock formation is eerily similar to giant tombstones. Jack's Cabin Vineyard may be haunted, but trust me, the hair stands up on the back of your neck every time you walk through the "Cemetery."

Comprised of serpentine and shale, this block straddles the Rogers Creek fault, one of the more active earthquake faults in Northern California. With a southwestern sun exposure, 15 to 20 degree slope, and the previous mentioned soil, the wine is everything you might expect: intense, powerful and complex. Year after year, the Cemetery yields Zinfandel with amazing black fruit and unbelievable tannins. These wines will have the greatest longevity of any of the Rockpile Zinfandels.

WINES FROM THIS VINEYARD:
Rockpile Zinfandel, Cemetery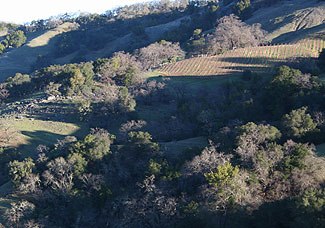 ---
Gloeckner-Turner ~ Rockpile
Owned by the brother and sister duo that is Robert Gloeckner and Jean Turner, this piece of land is as much a part of my family's history as our own land. The Gloeckner family, like ours, has been farming in Rockpile for decades. They began as sheep ranchers, just as my family did six generations ago. When we needed help herding or sheering sheep, the Gloeckners were always there and vice versa. The best thing about those hard days work, was it always led to a great meal, plenty to drink, and lots of storytelling — not necessarily in that order.

It was supreme pleasure to plant the Gloeckner-Turner vineyard for these old family friends back in 2000. Not only were they able to realize the dream of farming the family property again, but also because I knew it would produce some of the best cabernet and merlot grown in California. Planted on what can only be described as a bench at 1,350-ft. elevation, the result of a massive landslide some time ago, this small 11-acre vineyard is separated into four different blocks. Three blocks are planted to Cabernet, and there is a 3-acre block of Merlot. Though the soils, or lack there of, and sun exposures are very uniform throughout the vineyard, the slope varies greatly and is the catalyst behind the separate blocks. Rich and robust, the wines from this property are not for the faint of heart. The lack of water retention leads to extremely small berries which translate to intense flavors, incredible color extraction and phenomenal tannins. This fruit forms the backbone of our Cabernet and the "Buck Pasture" Bordeaux blend.

WINES FROM THIS VINEYARD:
Rockpile Buck Pasture
Rockpile Cabernet Sauvignon

---
Independence ~ Rockpile
Not only is Independence one of the younger names on the property, it is also one of the most colorful. The story of how it got its name goes like this: In typical Ed Mauritson fashion, my grandfather said he had waited until the last minute to secure a wild boar for the Fourth of July barbeque being held later that day. A scolding from Grandma sent him off on an early morning hunt. After an unsuccessful start, he encountered a group of young boars in a remote area of the ranch. There must have been something in the numbers that day because my grandfather came home with four wild boars on the fourth of July and that area of the ranch has been known as Independence ever since.

In 1999 when we started planting our Rockpile vineyards, I seized the opportunity to fulfill one of my lifelong wine dreams: to make a true vintage port, using the authentic Portuguese varietals. We planted four of the "Big Five" varietals that make up port: Tinta Cão, Touriga Nacional, Sousão and Tinta Madeira. <!-- as well as taking some creative liberty in planting Tannat --> We have exhausted every effort to make this wine as true to a vintage port as possible, all the way down to stomping the grapes with our feet. The incredible color and viscosity of this wine are apparent from the second you pour it into your glass. Rich aromas of chocolate and vanilla are complemented by the fragrance of dark fruits. Full and gluttonous in the front palate, phenomenal tannins lay just below the surface of the heady flavors of coco and truffles.
WINES FROM THIS VINEYARD:
Rockpile Independence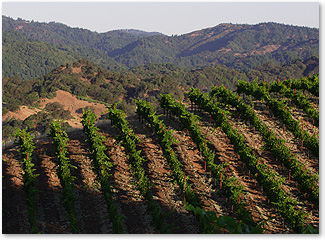 ---
Jack's Cabin ~ Rockpile
Named after one of the original inhabitants of this area, Jack Ireland lived in Rockpile in the early 1800s. Jack was known as a crazy old hermit. He spent his days girdling trees — cutting a ring around a tree trunk and removing the bark and underlying tissue in order to kill the tree. This was done to clear land for grazing. It goes without saying that is was lonely work in a forgotten corner of Sonoma County.

There are plenty of colorful stories about "Crazy Jack," many of which involve moonshine, guns, jail, an insane asylum and public nudity. Well, when my dad, and his father before him, was growing up on the property all that was left of Jack was the remnants of his cabin. It was widely believed that the cabin and this area of the ranch was haunted by none other than Jack. This was a good threat to a child; "If you misbehave, we're going to leave you at Jack's Cabin." Needless to say, no one misbehaved. Being the rebel and connoisseur of distilled spirits that Jack was, I'm sure he'd approve of the "Jack's Cabin" Zinfandel.

Jack's Cabin Vineyard is the proverbial last piece of the puzzle in our quartet of single vineyard Rockpile zinfandels. We make four Rockpile zinfandels for a reason, the incredible diversity of terroir. This vineyard may be the most unique, for Rockpile that is. Containing primarily loam soils, the vineyard has a southern sun exposure and is planted at roughly 10-15 degrees slope. Relatively hidden from the coastal breezes that howl through Rockpile, this vineyard is definitely the least stressed of all the blocks, and the wine reflects it. Rich in the mid-palate, this is about as close as you are going to get to a jammy zinfandel from Rockpile. The flavors are pure, showing both raspberry and strawberry fruit, finishing with soft velvety tannins.
WINES FROM THIS VINEYARD:
Rockpile Zinfandel, Jack's Cabin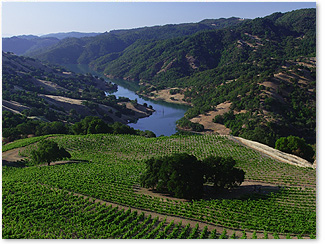 ---
Lower Pond ~ Rockpile
As the name suggests, this block is located directly below the pond. It actually is the convergence of two other Rockpile blocks: Jack's Cabin and Water Trough. The rows bend around the pond, giving this vineyard two very different sun orientations. Half of the rows run westward, while the other half bends toward the North. One of the heartiest of the Rockpile vineyards, it has the advantage of spanning a small trough. What little water there is collects in the low spot, giving the vines great vitality. One of the last blocks harvested, the strong vines yield surprisingly supple fruit. Unlike its neighbor to the North, this wine exhibits more spice and exotic fruit characteristics versus minerals. Always full in the mid-palate, the supple tannins provide a good backbone to all the wines it is blended into.
WINES FROM THIS VINEYARD:
Rockpile Ridge Zinfandel
Mauritson Dry Creek Zinfandel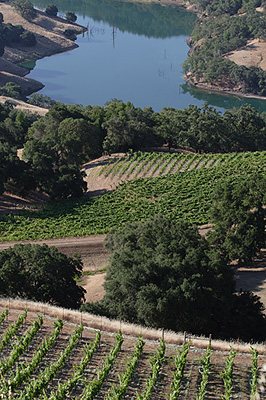 ---
Madrone Spring ~ Rockpile
The Madrone Spring block is so named for the year round fresh water spring that runs out of the roots of the most beautiful madrone tree that you have ever seen. The irony is that there is virtually no ground water on our property. We drilled six wells, only finding water in one of them, and the spring produces more water than the well. The tree is situated at the intersection of the three varietals planted in this vineyard.

This block is the most diverse of all the Rockpile blocks. It has three distinctly different sun exposures, a menagerie of soil compositions, and is planted to three different varietals. In the upper portion of the vineyard, at nearly 1,500-ft. elevation, it is not uncommon to have sustained winds of 20-30 miles per hour, while the lower portion is completely shielded from the coastal breezes.
WINES FROM THIS VINEYARD:
Rockpile Ridge Vineyards Zinfandel
Mauritson Dry Creek Zinfandel
Rockpile Madrone Spring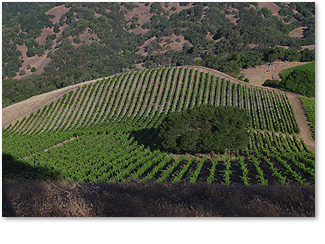 ---
Upper Pond ~ Rockpile
The smallest of all of our Rockpile vineyards, this block of zinfandel is less than 200 vines. Affectionately named for the small pond that it overlooks, we had no choice but to make it a separate block. This vineyard exemplifies the diversity of terrior and swiftness with which it changes in Rockpile. With its Northwestern sun exposure, and steep slope, it was just too unique to be included in the lower pond block. One of the only blocks not planted to the St. Peter's Church zinfandel clone, the DuPratt clone has done extremely well here. Having long bunches and full berries, this fruit is big and round with hefty tannins. The mid-palate shows great minerals, an effect of the steep slope and red soils. It's only too bad that the block wasn't bigger, or we would definitely make an Upper Pond zinfandel.

WINES FROM THIS VINEYARD:
Rockpile Ridge Zinfandel
Mauritson Dry Creek Zinfandel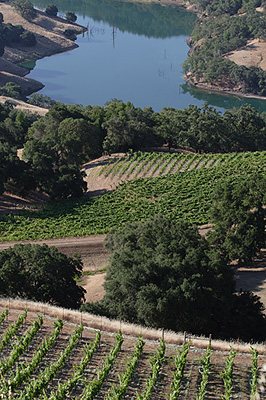 ---
Water Trough ~ Rockpile
The original, 100-year-old, claw foot bath tub still serves as a water trough for the livestock in Rockpile. Before there were pumps and automated water lines, there were natural springs. One would channel the water from the spring to a collection point, and that was your watering hole, or in our case, water trough. The bath tub is still fed by the original spring that has been used by Mauritson livestock for generations.

The Water Trough block is the lowest in elevation of all of our Rockpile vineyards. Sitting at 890 feet, it is only 30 yards above the fog line. Not extreme by Rockpile standards, this vineyard still produces fruit that only comes from stressed vines. The typically full Southwestern sun exposure is tempered by the low elevation, large surrounding oak trees, and gentle slopes. The fruit lends itself to bright red flavors and is balanced with bright acidity. Not the most tannic of Rockpile zinfandel, it is the perfect blending component in our Rockpile Ridge Vineyards Zinfandel.

WINES FROM THIS VINEYARD:
Rockpile Ridge Zinfandel
Mauritson Dry Creek Zinfandel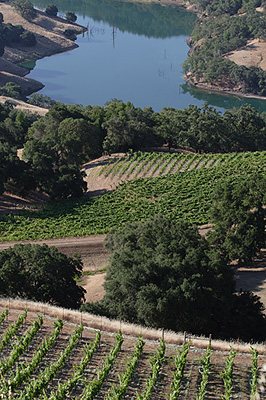 ---
Westphall Ridge Vineyard ~ Rockpile
The Westphall Ridge Vineyard is located at nearly 1,250-ft. elevation in the Rockpile appellation, the highest in elevation of all of our single vineyard wines. Owned by the Gloeckner family, the vineyard sits at the top of Rockpile Ridge with views of both forks of Lake Sonoma, truly one of the most beautiful places on earth. This vineyard is characterized by its perfect western sun exposures, red soils and steep slope. Not only did we plant this vineyard for the Gloeckners in the late 1990s, but we have farmed it every day of its existence.

The sun exposure provides phenolic maturity without overripe flavors, but it's the soil composition and extreme slope are what really set this zinfandel apart. Easily confused with a Southern Rhone varietal, this wine has an amazing range of flavors. Minerals, meat and spice dominate the bouquet. The initial flavors on the palate bring you back to the heady land of zinfandel; ripe cherry, raspberry and dried apricots. Superbly balanced, this wine will taste as good tomorrow as it will in five years.
WINES FROM THIS VINEYARD:
Westphall Ridge Zinfandel
Dry Creek Zinfandel