2010 Jack's Cabin Zinfandel
Rockpile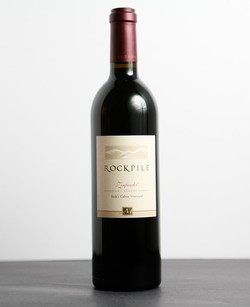 Named after Jack Ireland, one of the area's earliest settlers, this vineyard has a colorful story. Jack's primary occupation was clearing land for sheep and cattle grazing. But if you believe the tales, he was more known for his moonshine and disregard for the law, as apparently he spent many a night in the county jail. When my father, and grandfather before him, were growing up on the property, only the tattered remnants of Jack's house remained. The old decrepit structure only strengthened the notion that the "cabin" was haunted, thus was born the legend of Jack's Cabin!
Planted at nearly 950 feett in elevation, at roughly 10-15 degrees slope, the Jack's Cabin Vineyard is one of the premier vineyards sites in Rockpile. It has an ideal southern sun exposure and is planted along the meandering natural slope of the bench. Relatively hidden from the coastal breezes that howl through Rockpile, this vineyard is the least stressed of all the blocks.
Opulent and lush, the Jack's Cabin Zinfandel is generally the ripest of all of the Rockpile Zinfandels, and the 2010 is no exception. There's no mistaking the bright raspberry and fresh blackberry in the nose, but it's the subtle hints of chocolate, vanilla and black pepper that complete this wine. For all of the ripe fruit, Jack's Cabin still exhibits the Rockpile signature of great intensity and full tannins. The finish is one of many things that sets it apart from the other Rockpile Zinfandels. The acidity is perfectly balanced, giving the wine great length and making it a great accompaniment to food.