2013 Zinfandel, Uncle's Block
Rockpile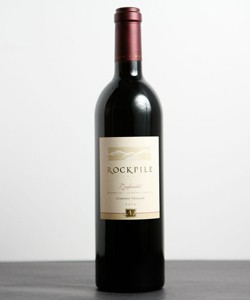 Located at nearly 1,300-ft. elevation at the top of Rockpile ridgeline, Uncle's Block is part of my family's original homestead and now owned by my uncle, Chris Mauritson. The vineyard is characterized by its eastern sun exposure, volcanic soil, steep slope and lack of water. This incredible site is one of our most stressed and it is reflected in the wine.
As amazing as the 2012 vintage was, it's hard to believe that the 2013 could live up to it, let alone surpass it -- but is has! This may be the best vintage to date for Zinfandel from Rockpile, and that is saying a lot. The vintage conditions were nearly perfect: Warmer than average temperatures were combined with lower yields to produce wines with amazing focus, silky tannins and great balance.
The nose is a combination of fresh raspberry, sweet oak and earthen spice. On the entry, the wine is lush and full, showing seamless tannins. Succinct red fruit is accented by more complex flavors of mineral and saddle leather. The rich, broad tannins give way to balanced acid and lasting finish.