2016 Rockpile "Madrone Spring"
Red Wine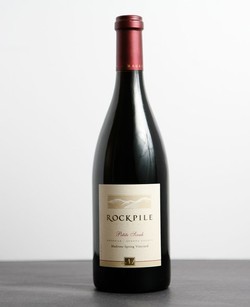 Wine Specs
Vineyard Designation
Madrone Spring
Composition
58% Zinfandel, 23% Petite Sirah, 19% Syrah
Aging
15 months in oak barrels 100% French
Wine Profile
Tasting Notes
The first vintage of our Madrone Spring Red Wine truly captures the essence of each individual component: restrained and elegant; black fruit driven with a pulse of spice; muscular with incredible depth; and yet approachable for such a young wine. In its infancy now, our 2016 Madrone Springs Red Wine would benefit from at least 2-3 years of bottle age. Enjoy this wine over the next 10+ years.
Winemaker Notes
Our family's Rockpile Ridge Vineyard is located at nearly 1,200 feet in elevation in the Rockpile appellation. The Madrone Spring block is comprised of three distinct varieties: Zinfandel, Petite Sirah and Syrah. These three varietals grow in the coolest microclimate on Rockpile due to its northwest orientation, thus producing wines of freshness and distinction. The blocks are harvested at different times and fermented separately to insure the integrity and uniqueness of the individual blocks. Our intention was to create a blend that not only exemplifies this unique area of our original homesteaded property but also showcases the extraordinary affinity and alchemy of Zinfandel, Petite Sirah and Syrah.