2017 Rockpile "Buck Pasture"
Red Wine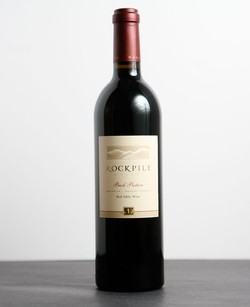 Wine Specs
Vineyard Designation
Buck Pasture
Composition
46% Merlot, 41% Cabernet Sauvignon, 10% Malbec, 3% Cabernet Franc
Aging
22 months in oak barrels 100% French
Wine Profile
Tasting Notes
Our 2017 Buck Pasture is beautifully layered with lush flavors of warm blackberry, dark chocolate dust, crushed black walnut, violet petal, hints of cedar and toasted vanilla pod. The dominant Merlot percentage delivers the fresh black currant and red fruit undertones. The entry is inviting, nearly silky, with a firm and fresh finish. Each element is perfectly placed to bring together a truly exceptional Buck Pasture Red Wine blend defined by savory and earthy layers. Enjoy this wine over the next two to twelve years.
Winemaker Notes
The 2017 vintage was defined by a very small crop and an abnormal heat spike during the first week of September. As winemakers, this vintage truly tested the limits of our patience. It was easy to fall into the trap of picking based on what mother nature threw at us, but instead it underscored that wine grapevines are truly resilient plants. The resulting Rockpile Buck Pasture has a riper profile compared to years past, with every ounce of elegance and power expected from rugged Rockpile.