2017 Zinfandel, Cemetery Vineyard
Rockpile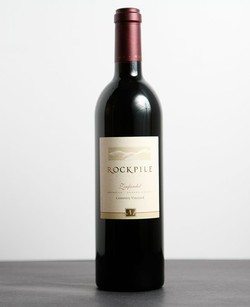 Wine Specs
Vineyard Designation
Cemetery
Composition
96% Zinfandel 4% Petite Sirah
Aging
14 months in oak barrels 100% French
Wine Profile
Tasting Notes
The 2017 Cemetery Zinfandel is a rock star. The nose is well set up with dark black fruits, classic briary notes and sweet earthy tones. This Zinfandel is concentrated and harmonious for such an energetic wine. On the palate, baked blackberry and crushed rock tangle with fresh summer blueberry and spring lilac blossom. Hints of sweet wild dried underbrush marry nicely with the finish of ground espresso dust and cocoa. Despite being tightly wound, this wine shows incredible promise. Its intensity and focus will allow it to age beautifully over the next 10+ years.
Vineyard Notes
The Cemetery block gets its name from the unusual outcropping of rock at the bottom of the vineyard that resembles giant headstones. This part of our Rockpile Ridge Vineyards has been called the Cemetery for more than 140 years. Located at nearly 1,200 feet in elevation, it straddles the Rodgers Creek Fault, one of the most active earthquake faults in Northern California, giving its soil composition amazing diversity.
Winemaker Notes
Our 2017 Cemetery Zinfandel will be the last vintage of this beautiful wine that has always been one of the classics of our single vineyard Rockpile Zinfandels. Even though this special place will no longer yield Zinfandel, we are extremely excited for what it will become. It will be reincarnated as Cabernet Sauvignon and we look forward to sharing the "new" Cemetery with you in the near future.